Have anyone seen this on their ceiling? I think it got there with the shake we had a few weeks ago. I'm on the 3rd/top floor, so here's my question:
1. Does anyone else have cracks on their ceiling?
2. What kind of ceiling do we have? I suspect drywall ceiling on the 3rd/top floor -- but that's only speculation.
3. I hope it doesn't have anything to do with structure integrity? It sure doesn't look like it but I had to ask -- since the crack seems to follow a certain line pattern, if you will.
4. So on the inside, what part of our home is concrete and what part is drywall? I would suspect that the outer wall and floor to be concrete and everything else drywall?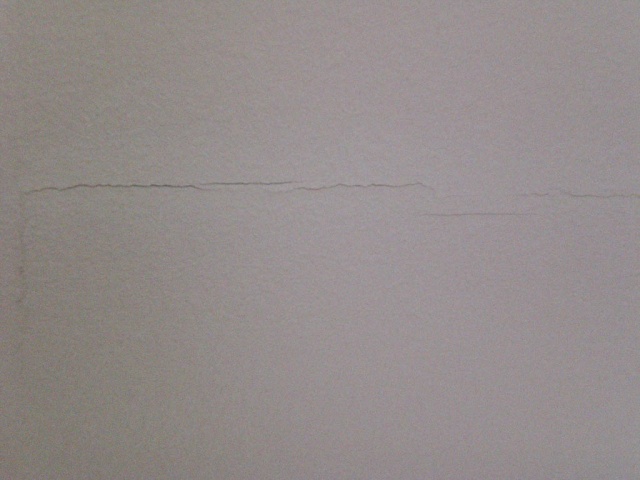 Posts

: 22


Join date

: 2009-01-15



I've only seen cracks in my corner areas, I've had quite a few in the past. I've filled them with caulk. Be interested to know the composition also.



Posts

: 56


Join date

: 2008-12-23



I have a few cracks in my unit also. Unfortunately I am not familiar with the construction to be sure what walls are concrete vs sheetrock. Perhaps someone else on the form knows.

_________________
------------------
Tom
building #475
Admin




Posts

: 685


Join date

: 2008-04-02


Location

: Building #475



The walls are standard wood studs with sheetrock covering. The ceilings also are made of sheetrock. Cracks can appear normally as a building ages and settles, or because of the earthquake. Most handymen or a plasterman could do the repair. It's a relatively simple DIY job, however matching the texturing is tricky.

The cracks could be signs of a structural problem. If after having them patched and the cracks reappear in the same spot within a year, it's likely a sign of a structural problem.

Chris



Posts

: 2


Join date

: 2009-02-26


Age

: 96


Location

: 445 Milan



I had a huge crack in the corner of my bedroom. I filled it with caulk and painted over it and it's good as new.

The repair after my upstairs neighbor's water heater went belly-up (and water down) was a little more complicated. It left a water stain which I thought I could just paint over. But when I washed down the walls with TSP before painting, that plaster disintegrated; it was no longer bonded to the drywall. I took a putty knife and scraped off everything that was loose and then used orange-peel spray texture to build it back up (the trick is to put on a thin layer, let it dry >= 2 hours, then repeat until you have it level with the surrounding plaster). I then used the knock-down texture - it sprays on in globs and you can dial it to finer or heavier. You wait until it's almost dry, then use a knockdown knife to flatten out the tops of the globs. You have to be patient and willing to sand it down and start over if necessary.... It looks great now.

I had lots of trouble with some of the stuff that wouldn't come out right or at all and finally discovered that there's a date on the bottom of the Homax can. It's a Julian date of the form YYDDD; 09180 would be the 180th day of 2009. If it's more than about 6 months old, it's probably bad - although it's supposed to have a shelf life of two years. Also, sit it in a pan of warm water if it's cool. If it's too cold, it won't spray out right.

I got a little carried away with my new skill and decided to camouflage my breaker box with texture, and I must say it looks pretty good.

If any of you want to try this and need help, just give me a shout.

Helen



Posts

: 78


Join date

: 2009-02-25



I was just about to ask the forum if anyone had cracks, because I have a lot. I have found most of mine on the inner corners, along the seams of the drywall, and also outer corners where the metal corner ends. It is likely that the original taping and drywall finishing work was rushed. However, I believe our building (410) is also settling because I have a crack in the concrete floor of the garage and our bedroom door is out of plum. So, perhaps a combination of the two.

A band aid approach is caulk, better yet would be to re-tape and texture. Can anyone recommend a handyman type who can get the job done with confidence? I also need to replace a small piece of drywall right next to the shower that has had a bit of moisture over the years.

Thanks, Steve

slgva76@yahoo.com



Posts

: 10


Join date

: 2008-06-22




Similar topics
---
Permissions in this forum:
You
cannot
reply to topics in this forum