Hi Everyone!
About a year or two ago we had a consistant issue with the trash enclosures being overfilled by residents. We had our vendor ATD haul away large items that didn't fit in the bins, which we were charged for. We tried to remind residents to not leave thrash outside of the dumpsters, we posted flyers, we mailed newsletters and we increased how many bins our garbage company picks up during the week. We also requested more recycling bins. Things have been fairly good until this past couple of weeks.
I believe that both incidents came about when residents were either moving in or moving out of the complex. In either case, the residents or their moving people left a complete mess by the thrash enclosures.
These pictures were taken by a resident who was absolutely furious that someone could leave such a mess. The only good thing I will say is that our vendor ATD did a great job to condense the thrash and spread it out to the other dumpsters, so that the garbage company was able to remove all of it (If it's not in the garbage bin, the garbage company will not take the item, which is why it is so important that residents do not leave garbage outside the bins - throw it in!)
I suspect the party that was moving from/into building 450 may be responsible for this but I'm not sure. If someone can tell me for sure, I would appreciate it.
Perhaps it's time to remind everyone that ALL thrash should be dropped into the bins - no exceptions. If the bins are full, walk a little further and drop it in another location. Boxes should be broken down.
Lastly, I've asked about placing cameras around the bins to try and catch people in the act. I'm not sure if that's feasible but I will look into it. If anyone has any thoughts please let me know.
Have a good night!

_________________
------------------
Tom
building #475
Tonight (May 30th) when I came home, I noticed the garbage bins (outside building 470) AGAIN were completely filled with empty boxes and miscellaneous junk. More seriously this time is whoever left those trash out left pieces of wood with nails exposing on top of the blue recycle bins. Whoever did this is very inconsiderate of others and create a hazard to the rest of the residents. I have attached pictures of how the mess look like. Anyone knows who did this?!



Posts

: 30


Join date

: 2008-12-16



The idiots who abuse the refuse areas need to severely fined. We can't do much unless we identify who they are. If they are new residents moving in I don't want them here as they are pigs and have no respect for their neighbors. We have existing residents who abuse the refuse area all the time and we all should be on the lookout and report them. The Board needs to develop a policy that fines the abusers and have signs placed at the refuse areas stating the fine. We are paying for this in extra disposal fees and having our community disgraced by the abusers.



Posts

: 97


Join date

: 2008-05-13



We checked the boxes outside 470, 2011-05-01, and saw the name "Patel". This is the same name we saw on the boxes when this happened in the same location a few days ago.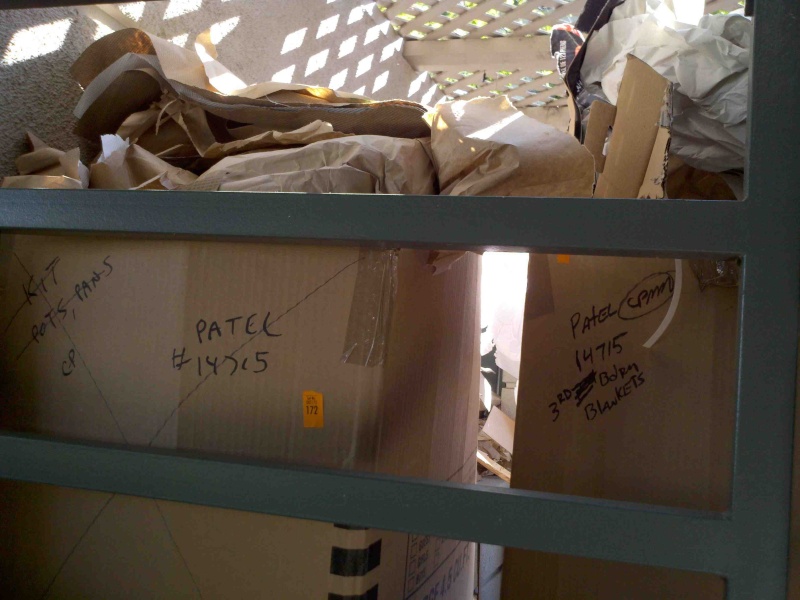 Posts

: 34


Join date

: 2009-05-06



Thanks, I'll see if Peachtree has a Patel listed as a homeowner.
Right now it's Wednesday (5/5) night at around 10:30 p.m. Just spotted the person/resident who might be responsible for the mess. He again just dumped several empty Home Depot boxes to the garbage bins next to building 470. We followed him and he lives in Building 475, #119. Please see attached of what he has just dumped.
Last edited by stuttgart on Thu May 05, 2011 1:42 am; edited 1 time in total (Reason for editing : photo)



Posts

: 30


Join date

: 2008-12-16



Been meaning to write a complaint on the ongoing trash issue. For the past two years, the dumpster has been excessively been getting worse. Unfortunately, it is next to our unit and is the only path to our front door as we donít have the garage access from inside like many units. So we have to walk by the trash everyday. At least once a week, I find myself crushing other peopleís boxes and properly disposing of their trash so our friends/guests donít get to see the embarrassing mess. Including used diapers, yuck!

Also, one dumpster will be completely overloaded, while the other is almost empty because folks are too lazy to properly dispose of their trash. They just keep loading up the one dumpster, not checking the other. The recycle bins are a joke. Thankfully those extras were removed, that was annoying.

The culprits seem to be new renters of units that have been unoccupied for the past few years (no sale indicated in Zillow). Like I mentioned with parking, can we do an education campaign? Push people to use their trash compactors? Offer incentives to repair/replace compactors that are broken (reducing excuses). Or install low cost motion activated cameras (even just fake cameras)?

Also, what can we do about the dumpster divers that stop by at all hours of the night?


The two biggest violators I have seen are below, these are folks who repeatedly leave excessive boxes and trash undisposed of. Sometimes out right blocking our walkway (have pictures on the iPhone).

Hanxu Chen
450 Navaro Way #201
925-330-9961

Shailendra Srinivatava
450 Navaro Way #101
408-955-9699

Davina Wise

Someone 408-954-1363
(Smart enough to tear off the label, but not their phone number)



Posts

: 5


Join date

: 2010-07-23



Thank you. I'm going to pass these on to Peachtree for action.

_________________
------------------
Tom
building #475
Thank you!!

We understand the problem with moving in and moving out and how it can affect the trash issue.

Since Villagio is our number one priority, I am glad that we are doing our best for you. It's always nice when we can work pro-actively to combat an ongoing problem.

Michael has also taken pictures of the names on boxes and reported them to Peachtree.

We will get ahead of this issue!!
Brenda
ATD



Posts

: 53


Join date

: 2008-05-20





Similar topics
---
Permissions in this forum:
You
cannot
reply to topics in this forum